My most recent book is Social Change Anytime Everywhere, co-authored with Allyson Kapin, and published by Wiley in 2013. In addition, I've had the opportunity to contribute to other books and publications about nonprofit technology, social media, and social impact.

Social Change Anytime Everywhere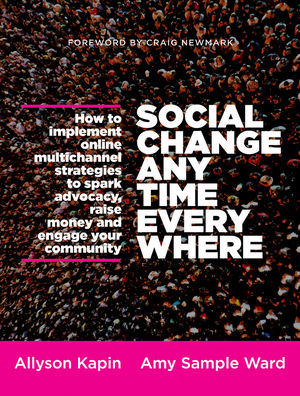 Social Change Anytime Everywhere was written for nonprofit staff who say themselves or are asked by others, "Email communications, social media, and mobile are important, but how will they help our nonprofit and the issues we work on? Most importantly, how the heck do we integrate and utilize these tools successfully?" The book will help answer these questions, and is organized to guide readers through the planning and implementation of online multi-channel strategies that will spark advocacy, raise money and promote deeper community engagement in order to achieve social change in real time.
It also serves as a resource to help nonprofit staff and their boards quickly understand the evolving online landscape and identify and implement the best online channels, strategies, tools, and tactics to help their organizations achieve their missions.
Purchase your copy from Wiley orAmazon.
Social By Social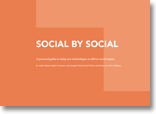 NESTA commissioned this book by Nigel Courtney (CASS Business School), Andy Gibson (Sociability), Clive Holtham (CASS Business School), David Wilcox (Social Reporter) and myself.  I have shared some pieces from the book on my blog, including the core 45 Propositions.  Andy, David and I have also modified the Social Media Game to incorporate lessons and strategies from this handbook; the game was first deployed at the SHINE09 unconference and again at the June 2009 event for London Net Tuesday.  You can purchase a copy of the book print-on-demand, or read it online and download it in PDF for free.
You can Download the PDF or read the book for free online or purchase your own copy.
npEXPERTS: Online Marketing Insights for Nonprofits
Learn how to use nonprofit marketing to connect with supporters, activate your donor base, and raise money online.
Nonprofit experts from across the industry share their extensive knowledge and expertise in online marketing and fundraising, email communication, social media, mobile engagement, and much more.
Download the full ebook today.
Social Media PR Tweet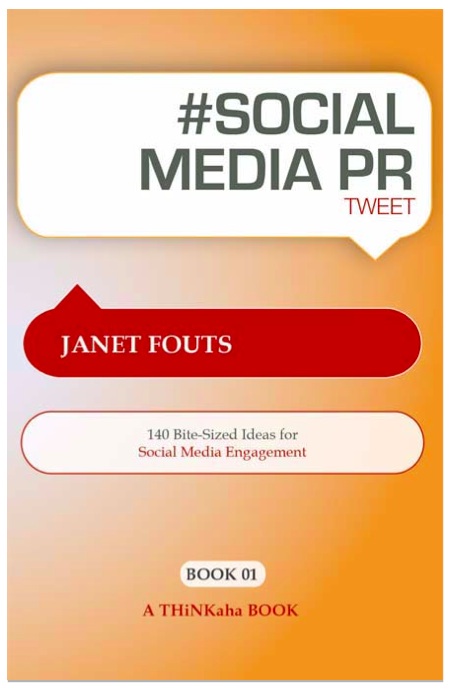 PR has always been demanding. With expectations of lightning-fast responses, today's consumers, vendors and general public all make it challenging to manage and control corporate messaging and PR. Surely you have heard somebody promoting social media as a silver bullet or band-aid for all PR issues? Therein lies the danger…and the opportunity. It's very easy to make PR blunders with social media, simply because you cannot control it. Then how do you learn to use social media, work with it, exploit its potential fully and make it an integral component of your PR toolkit?
By Janet Fouts, with contributions from 9 others (including myself).  Written in the easy, digestible, and popular 140-character tweet format, the tips and guidelines in #SOCIAL MEDIA PR tweet Book01 will get you on the road to understanding the potential of social media for PR. You will learn about communicating and inbound media, with individual sections related to Facebook, Twitter, blogs and promotional events.
You can buy in paperback or as an ebook.
Social Media Nonprofit Tweet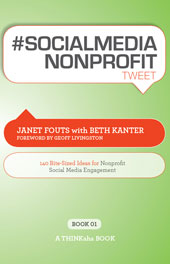 Virtually every nonprofit realizes that, pretty soon, social media will no longer be optional. Already several nonprofits ranging from small local groups to international organizations have demonstrated that social media offers unique opportunities for advocacy and fundraising, and for catalyzing change. So if your nonprofit is ready to make the leap into social media, how do you go about it? Most of the information and pointers out there are directed to corporates, and we all know that what works for corporates does not necessarily translate well for nonprofits.
By Janet Fouts with Beth Kanter, and with contributions from 26 others (including myself).  Written in the easy, digestible, and popular 140-character tweet format, this book distills the knowledge and expertise of industry leaders to bring you guidance and wisdom that you can deploy immediately, so that social media can start working for your nonprofit today.
You can buy in paperback or as an ebook.
Thrivability
"Our contributors are from widely different fields – from social entrepreneurship to philanthropy, from deep tech space to community activism, from neuroscience to labor and economic history, from social network analysis to storytelling. I expect that you, the viewers and participants, are a wide range of people too. Like you, the contributors are from a vast array of places in the world from Stockholm, Brussels, and London to Thailand,  Australia, and Uganda, and include Seattle, San Francisco, Portland, NYC, Los Angeles, Houston, Cleveland, Chicago, and Boston. From noted academics to get-your-hands-dirty entrepreneurs, from scientists to the tree-climber next door, we connect them together to lay out the general topography of a thrivable world.
Together we sketch our view of thrivability.  We may not all agree. However, I think you will find, as I did, that while the field of interest may be different, the core principles, values, and beliefs about thrivability come through consistently, as core words 
re-appear on other pages. Please enjoy this curated collaborative sketch of thrivability. I invite you into the conversation."
You can view the book as a slide show, download the PDF, or read online.
We Are Media Project
"The We Are Media Project is a community of people from nonprofits who are interested in learning and teaching about how social media strategies and tools can enable nonprofit organizations to create, compile, and distribute their stories and change the world.  Curated by NTEN, the community will work in a networked way to help identify the best existing resources, people, and case studies that will give nonprofit organizations the knowledge and resources they need to be the media. The community will help identify and point to the best how-to guides and useful resources that cover all aspects of creating, aggregating, and distributing social media. The resulting curriculum which will live on this wiki and will also cover important organizational adoption issues, strategy, ROI analysis, as well as the tools."
I have had the huge pleasure of contributing to the We Are Media Project and continue to do so.  An ongoing project like this is the perfect example of the ever-changing and participatory style of social media.  Whether you are an organization versed in technology tools or haven't yet tried any new tools, this resource has something for you – from strategy to tools.
Visit the We Are Media Project wiki here.
WorldShapers: Extraordinary Women Making a Difference
"This ebook showcases the work of women around the world who are working to shape, influence and change their worlds.  You'll find their stories, plus links and contact details for the projects they're working on – as well as suggestions for things that you can do to help shape the world you live in."
Creating this ebook was a lot of fun: connecting with women from around the world who are focused on impacting their world for the better.  It was an honor to be included and I hope you will share this free publication with your friends and colleagues for inspiration, ideas, and conversation.
You can download the free WoldShapers: Extraordinary Women Making a Difference ebook here.