This post is cross-posted on the National Center for Media Engagement's News Hub blog – join the conversation in the comments there, too!
—–
I recently had the opportunity to present a webinar for the National Center for Media Engagement, focused on community-driven engagement, and present a session at the Public Media Development and Marketing Conference, talking about building a social media strategy. Both of these presentations had participants primarily from the public media sector. There were some similarities and differences in both the questions and perceptions around engagement and community. I normally separate my post-presentation blog posts and slides but think it will be valuable to group them together this time.
Defining Community
One of the biggest barriers to sharing our experience and knowledge, and learning as organizations is the belief that we are all so different we can't actually share or learn from each other. A great example of this is when we talk about working with our communities. To talk about what community means, it's often helpful to also talk about what community is not: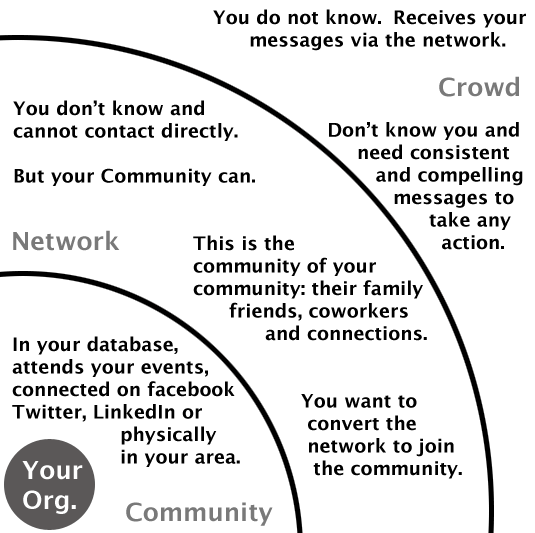 You'll notice that none of the words on the graphic above say "audience" or "service area"; that's because all three sections – the community, network, and crowd – are part of your station's service area, or your organization's audience. We are not actually engaging with every member of our service area, we don't know who they all are or what they all do. The people who donate, listen in, connect with our programs by calling in, reading or commenting online, and coming to our offline events are our community. Their friends, colleagues, coworkers and family are the network – the people we reach through our community. The network knows about us but isn't yet directly connected – maybe their friend told them about a story or a news segment they heard on our station, or they have family members that attend an annual concert. And the crowd is everyone else; yes, they are part of your service area or your "audience" but you haven't reached them yet. Just because everyone in New York, the US and the world can subscribe to the New York Times, does not mean that the world is the community.
Engaging Community
My NCME webinar focused on community-driven engagement. Using the definition above, the point of the webinar and discussion was to talk about ways that organizations (of any kind) can create opportunities for the community to decide, organize, orchestrate or otherwise fuel engagement. Some of the questions raised in the webinar chat focused on the role of public media organizations as content creators and how community-driven engagement fits in the work they do. I was pleased to see that the responses I gave on the webinar were echoed at the PMDMC conference by the Friday keynote presentation from American Public Media's Jon McTaggart. The questions he raised include:


is our community directly informing the services we provide?
is our whole community involved with our station?

are we providing something unique and distinctly valuable to our community?
what other organizations have a vested interest in the success of our station?
what do we do that has the whole community talking?
Let's focus on that first question for a moment: is our community directly informing the services we provide? How is your station creating ways for the community to actually inform the services or programs or content you provide and create? What options do you provide to your community to have share responsibility or ownership for a service, program, or event? How does the community see their impact and influence on your station?
Using Social Media
Many public media organizations are looking to use social media as a way to have conversations directly with community members. Some are using tools like Twitter or Facebook to invite listeners to a post-segment conversation with reporters, moving them from a passive action (listening) up the ladder of engagement to an active action of commenting and discussion. While many organizations of all kinds face the struggle of convincing staff or leaders that social media is worthwhile, many stations are tackling the opposite end of that spectrum, with widespread adoption without any strategy or plan.
The PMDMC conference had a 4-part social media track. My presentation was the first in the series, setting the foundation for using social media. In the presentations section of this post you can follow how to set up a community map, content map, and basic tracking documents; and templates for all of those are in the resources section below. Once you've decided you are ready to start exploring how social media can benefit your station, even if you only have 30 minutes a day, here are a few steps to guide you:
1. Start Listening
You can't know where you want to be or what topics are of interest to the segments of your community using social media unless you start by listening. You can use RSS to subscribe to searches on Twitter even without an account, set up Google Alerts to receive notifications via RSS or email when your station, reporters, segments or programs are mentioned online, and track the blogosphere for people talking about your content.
2. Start Joining
Once you have a feel for who's talking about what, where, start joining them by leaving comments on the blogs, pointing to content or discussions from your station's website or blog, and so on. Don't feel like you have to think of something to say, simply use what you're hearing in your listening online to reply and join the conversation.
3. Start Creating
After you've listened and started joining in, you can now start creating profiles that have a goal and strategic use to compliment the rest of your communications and engagement work. Remember, even once you get to this stage, you never stop listening or joining. Just because you have your own profiles now, doesn't mean you can stop listening to the community or replying and commenting. The 2-way engagement of social media is especially important to honor for public media organizations looking to create and sustain supporters.
Here's a quick video interview I did with Annie Shreffler:
Presentations
Resources
Templates:
Books & Collections:
Blog posts:
Community Engagement and Social Media for Public Media