Do you believe you can change the world?
That's the question I asked this morning on Qriously, a new application that measures public sentiment, in real time. It works by replacing ads with questions in smartphone and tablet apps. The application is currently in a closed beta, and I was lucky enough to get access to start playing around with it. It's so easy to use, and has so much potential for the nonprofit sector, that I couldn't wait any longer to show it to you!
Qriously is super easy to use: you pick the type of question (two answer, slider, or star/rating), write your question and possible answers, select the location (global, regional or local – if you get a trial account, you are limited to global questions), and then how many answers you want to gather. That's it!
I've run three questions so far, and here's some of the insights to the process:
What influences your charitable giving?
The first question I asked on Qriously was: "What influences your charitable giving?" and provided the two possible responses of "friends" or "data" – I used the question style where respondents had to pick one answer or the other exclusively. As soon as the question is live, you start seeing the impressions and the responses, aggregated in real time. It's incredible! You'll also notice that you can see the impressions, as well as the responses.

And once all 100 responses were gathered, I took a look at all the data.
First, overall: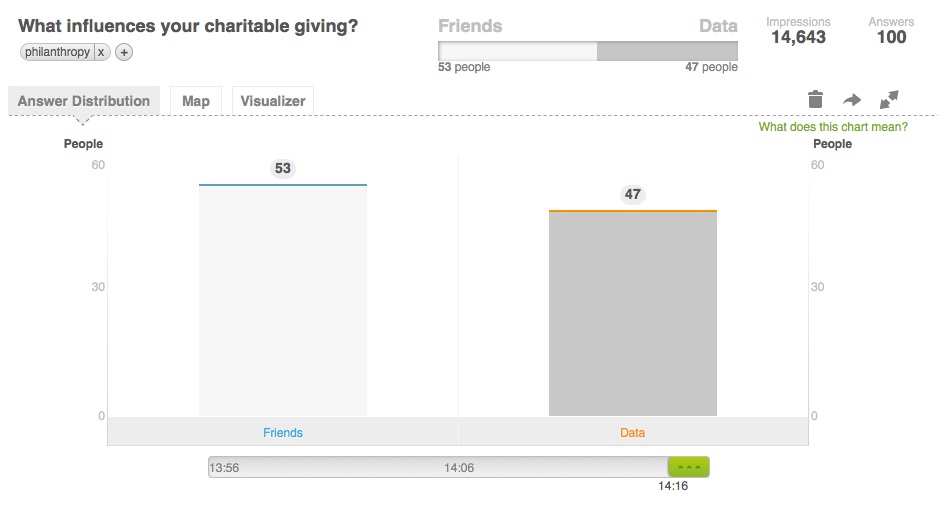 And when you click on "What does this chart mean?" it actually tells you, with much richer context: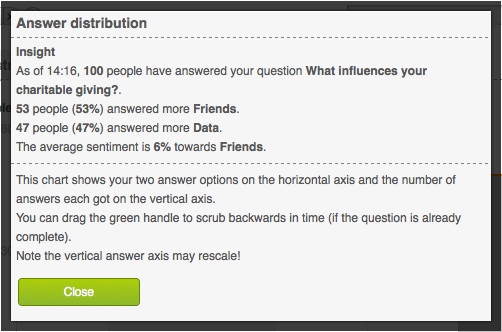 I personally love data-map mashups and Qriously uses them brilliantly! The data on these maps shows the number of responses as well as the direction of response, where orange = "data" and blue = "friends".
You can start out with a global view:
And drill town to see the data, and let it speak for itself.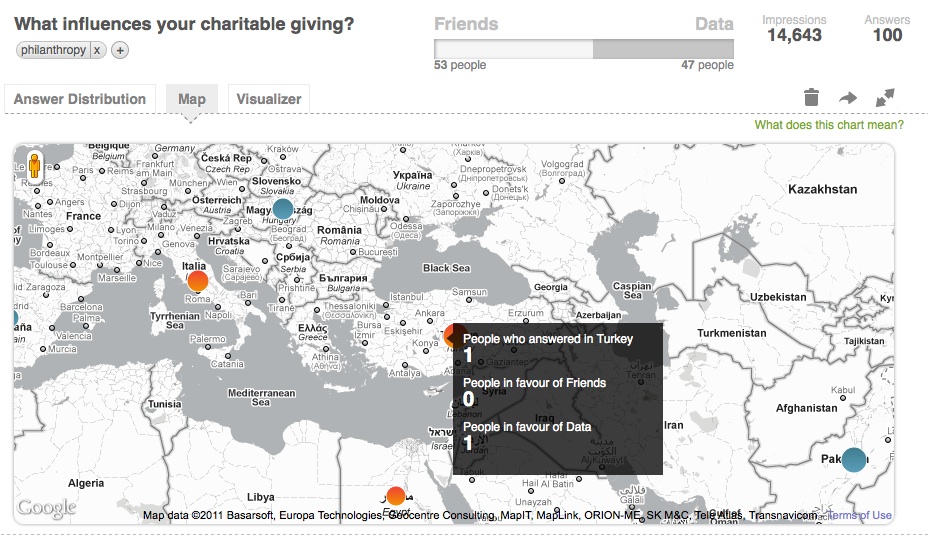 What I think is really exciting about this view of the data, is when you can look across a global region and extrapolate on the cultural influences and beyond. Imagine if you were a nonprofit organization, creating a global campaign; you could use a tool like this to test messages and sentiments for various areas around the world to better design and craft the campaign as well as the communications. For example, thinking about the question of what influences giving, look at this section of the map – with exclusive data responses vs friend responses: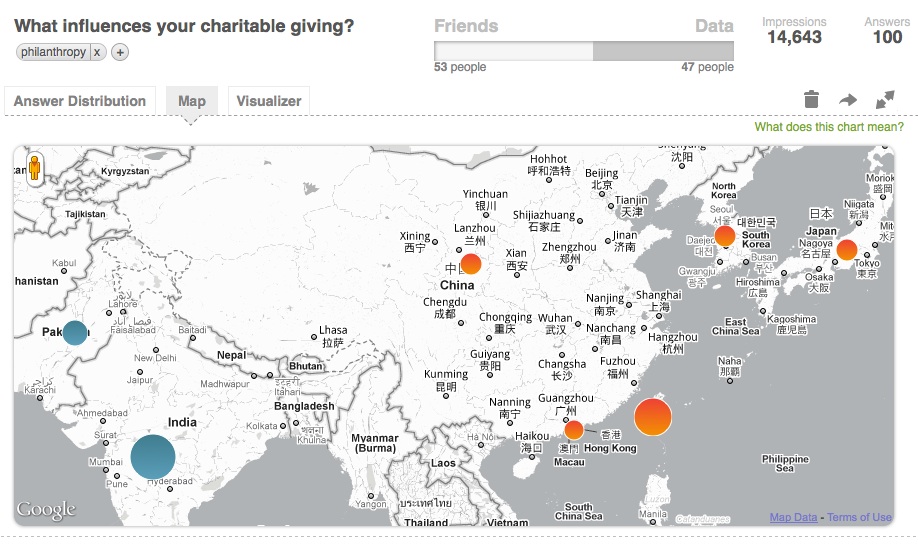 And looking at the US, you can see the changes in response across the states, too: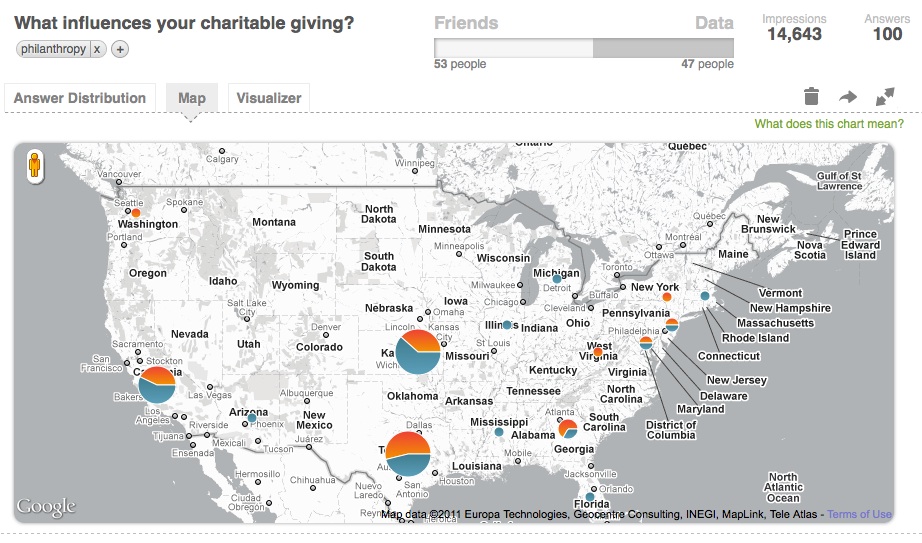 Which would you rather give?
The next question I asked was "which would you rather give?" with the answers being "time" and "money" but this time I used the slider question option, meaning respondents have a slider on the screen that they can drag anywhere along the line between the two answers. I thought this would be a good question type to use for this topic because it would let us see not just if one had more "answers" than the other, but if it was an extreme or subtle inclination towards either direction. Here's the response: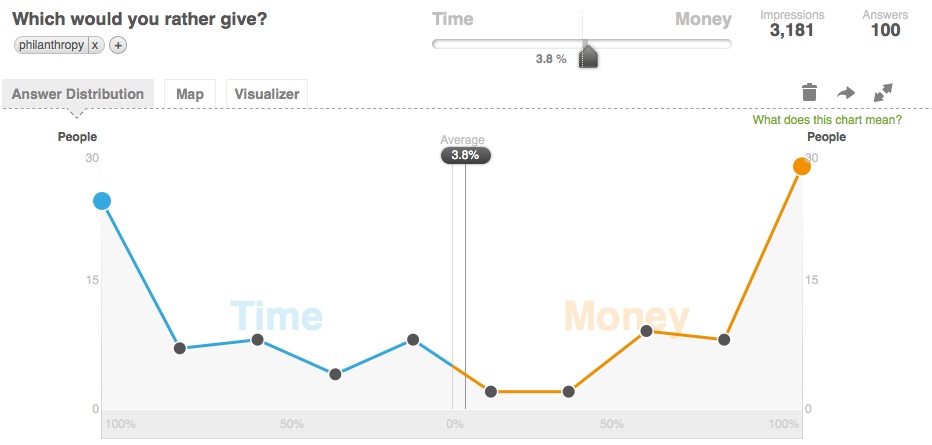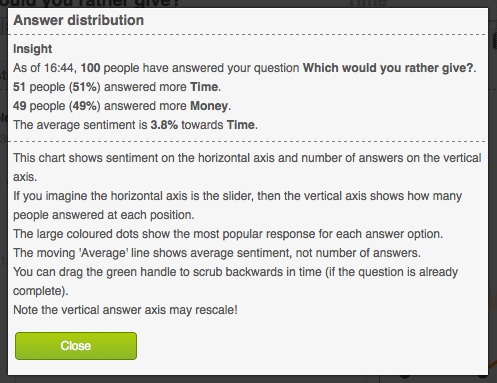 Personally, I agree! I respect and understand the arguement that time is money, but I am able to give more of my time than my money to things that aren't discrete. I'm happy to share my thoughts, feedback, ideas, and "expertise" and love to help others learn something that they can then do on their own (without me next time). And I often feel that organizations don't provide a way for me to give, in a way that I think could be valuable, unless it's financial.
Do you think you can change the world?
That's right. I asked mobile users around the globe "do you think you can change the world?" and I chose the two-response question type, so they could only answer "yes" or "no".
And the results? Yes!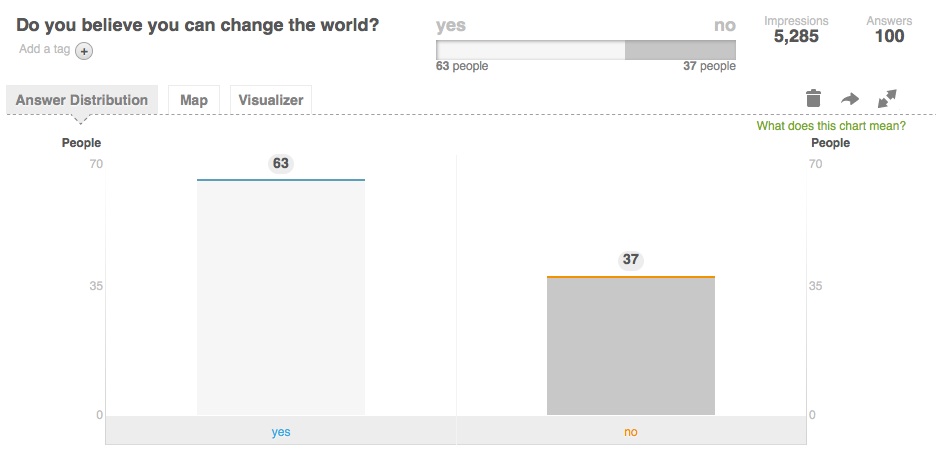 Qriously for Nonprofits
I think there are so many potential applications for Qriously in the nonprofit sector!
Marketing
As I noted at the start, the stats provide both impressions as well as responses. So, although you may only have 100 people give you an answer, if your question said, for example, "Have you heard of NTEN?" you have far more people that aren't responding that still saw your organization's name.
Listening
Organizations are looking for ways to learn about their community and those they want to reach but haven't yet. Listening is a big part of social technologies as you can tap into and follow all kinds of conversations. But Qriously offers a way of listening and learning that cuts out the middleman – go straight to the people you want! I'm using a trial account, but full accounts provide the option to target your geography and more.
Targeting
Beyond listening, maybe your organization or campaign needs to identify just who it is that actually is interested! Qriously could be used to test different messages and groups to measure where responses are strongest.
Campaigning
You don't just have to do market research with Qriously. What if you used the tool as a way of campaigning? The questions could actually be calls to action! For example: "Have you changed to energy efficient light bulbs?" with answers of "I will" and "I did".
And more!
There are so many ways the social impact sector could put something like Qriously to use – and not just as another shiny toy, but as a tool to meeting our missions.
If you want to check it out for yourself, use this form to apply for Qriously access. Please note that trial accounts only let you ask global questions.
What do you think? I have another question I can ask on the trial account, so please share your suggestions! If you have questions about the application, I'm happy to respond with my experience, or message the Qriously team to weigh in with more information!

Replacing Mobile Advertising with Real-Time Data