Earlier this week, an announcement on the Causes Application blog broke the news that over $20 Million has been donated since May 2007 via donors using the social networking application.
There's been quite a lot of talk in the last year about the opportunities for fundraising online, generally, as well as the best practices for organizations leveraging social media for campaigns (as well as the idea to use free tools to raise money in hard economic times).  There's also been a bit of controversy around the Causes application specifically, due to it's decision to abandon the MySpace platform and offer it's application/services only to the Facebook community. (You can read more about the MySpace/Facebook move here, here, and here.)
Here is the graph of donations on Causes since it launched in May 2007:
Some of the additional data provided from Causes in their announcement, includes:
400,000 people have made at least one donation
$25 median donation amount
35,000 causes have received at least one donation
$2.1 million raised by 2009 America's Giving Challenge participants
$4.5 million raised through the Birthday Wish feature
Despite the initial awe and excitement around a number like $20 Million, I want to take a moment to think about the other side of the data.  There certainly is more to the story and I hope you'll share your perspectives as well.
Social networks are still for engagement, not money
Fact: Of the hundreds of thousands of organizations registered as possible beneficiaries in the Causes application (Washington Post data), only 20 organizations, including the Nature Conservancy, Doctors Without Borders and St. Jude's Children's Hospital, have raised over $100,000 using Causes.
Context: Organizations can't assume that applications like Causes or simply the use of social networking sites like Facebook will translate into new revenue streams supporting the organization.  Yes, of course, I would advocate that organizations who are eligible ensure that they can be listed as beneficiaries of causes on Facebook (visit the FAQ here) but doing so is an enough of an action to replace your other funding work.
Fact: Causes Birthday Wishes (make a donation campaign for a charity of your choice tied to your birthday) accounted for a third of all donations in the past 6 months.
Context: Birthday Wishes are campaigns started by enthusiastic supporters.  You may not know them, and you may have never heard of them.  But you need to get to know them fast!  Be sure that you are connecting with the passionate volunteers going out and raising money for you: thank them, support them, encourage them.  And be sure to share invitations for the fundraiser and those that donate to his or her campaign to join your organization outside of facebook (on your enewsletter, your action alerts, an offline event, or something else to keep them on your list).
Fact: 400,000 users have contributed to a cause at least once.
Context: That's a lot of people. How many fans does your organization's Fan Page have, or how many members are in your facebook Group?  Probably not 400,000.  How many of your fans or group members are in your database, though? The most difficult part to applications like Causes is that you don't get the data.  With so many people donating to causes, maybe only once, it's crucial for the benefiting organizations to reach out and encourage donors to connect with the organization directly – that way they may find out more about your work, help you and take action, or even donate again.
Skewing the numbers?
Lastly, I can't find any data to shed light on my question but I would love to understand if the numbers Causes is touting reflect only the funds raised on facebook, since they stopped allowing the users on MySpace to access the service.  I think it would be unethical and obviously skewing their own data.  I'm incredibly frustrated at the lack of transparency from Causes, especially around this issue.
What do you think?
Would love to hear your experiences, any lessons learned or best practices, and ideas.
—–
Update:
Luise asked to see the comparison of growth of facebook users during the same growth period of Causes donations so I whipped up a simple chart: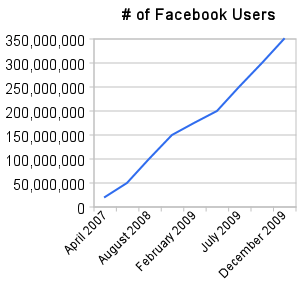 The other side of the figures: Causes reaches $20 Million in Donations