Lately, we've watched as images – from photos to infographics – have taken over the web. As photos take over Facebook newsfeeds and Pinterest explodes, I see so many people trying to accomodate an image-centric process into their digital curation. Have I lost you yet with all the buzz words and slang? Stick with me. My point is, for nonprofits at least, not every story has an image; sometimes what is incredible is the larger story we pull together or the context and annotation we can give to news and events. In the craze over Pinterest, I think people have overlooked the evolution social bookmarking site Delicious has made. In my opinion, it is the superior curation platform. This is why:
A Thousand Words Without a Photo
We know the old saying that a photo is worth a thousand words. But, when it comes to Pinterest, a social bookmarking site exploding with attention lately, it doesn't matter if you have a thousand words or not, without a photo, you can't save your favorite sites and pages. For example, like many on Pinterest, I'm a female that has a board for fashion I like. Many of my favorite online stores have cute dresses I'd like to save to my board (obviously, that's why they are my favorite stores); unfortunately, Pinterest isn't able to identify the image when I provide the page URL. As such, I'm out of luck: I can't pin the dress and share with my friends on Pinterest.
Alternatively, all I need on Delicious is the URL and I can save it. Not only can I save it privately or publicly (like Pinterest), I can also save it to any tags or keywords that I choose in addition or instead of saving it to a stack (the term used on the platform in the same way Pinterest uses "board"). And, whether or not the page even has an image I can still save the link and I can even add context or notes.
Sharing is Caring
On Pinterest, the sharing aspect of content hinges on repinning something to your own board, and, unless you create the board as one that allows contributors, you are creating content in your own silo. You can "like" and comment on pins, or automate your pinning to post to Facebook, for example, but that is the extent to the social capabilities of the network.
On Delicious, your stacks can be created by yourself or with contributors in a similar way, but even if they are closed to only you, others can still suggest links to be included, helping you crowdsource content without losing control, so to speak, of the content itself. You can also comment on individual bookmarks or on the stacks as a whole – something I am consistently wishing I could do on Pinterest. Because Delicious is built on a history of many years as a social bookmarking platform, it has great resources for the social sharing built in, including:
View all other users who saved the same link and the comments or notes they left about it to their own accounts
Find other users based on content tags or stacks
Share specific bookmarks or stacks via Facebook or Twitter, or even email
Browsing is the new Reading
One criticism I've seen consistently from new Pinterest users is that it is visually overwhelming. You look at a board that is filled with wedding dress options, for example, and it's hard for our minds to sort the maybes from the yes as there's just so much going on.  I really appreciate the more streamlined user experience that Delicious offers as well. It even provides options to view the bookmarks that are multimedia or video separately, to view all bookmarks just as links and notes, or in the full view. Here is an example:
This is my Delicious stack for Nonprofit Technology Infographics: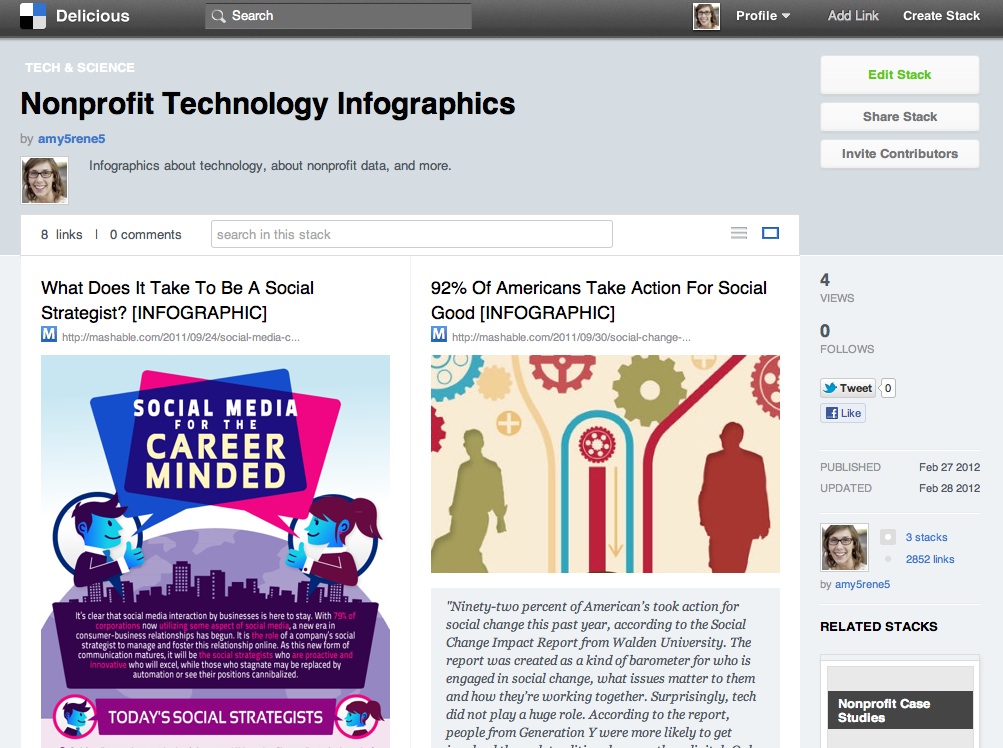 And here is Beth Kanter's Pinterest board for Nonprofit Technology Infographics: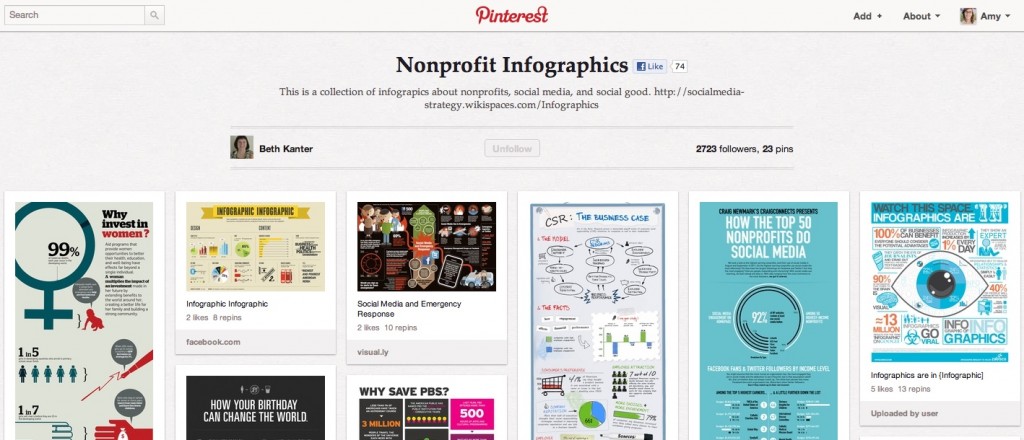 And for one last example, here is a stack that isn't image-centric, my stack for Nonprofit Technology Case Studies:
I do think Delicious could improve with custom URL options, for example, but overall I think it is a much better platform for the goals of content curation and social bookmarking. What do you think? Would love to hear your thoughts!
Pinterest or Delicious: Social Bookmarking Coming back as Digital Curation