Earlier this year, Ning announced that it would be dropping 40% of its staff and dropping the free service, which came as a shock to much of the community, including author of the Ning for Dummies book, Manny Hernandez. It also spurred many forums and blogs to create lists of Ning alternatives that were still free. The announcement and additional information (including that educators could continue using the platform for free) came in April and the changes took effect in July. It's now been a few months and I wanted to check in on the status of the platform, as well as the impact it has had on communities using the tool and organizations supporting those groups.
The Ning issue touches on a topic that's very important to me and I've written about a number of times, including: Letting Technology Lead, Why we need a new way of building, How our tools define 'community' and Ning saying No to free networks.  As all of these posts mention, the underlying issue here isn't whether Ning was the best tool on the Web or not, in fact it has nothing to do with that. As community organizers, campaigners, and organizations working to better the world, we know that the tactics and tools we use can dramatically impact our success, and if the tools we have aren't accessible and aren't in our control we put ourselves in a position to negatively impact our own success.
Earlier this Fall, I got a message from Laura on the Chain Reaction network (on Ning) that told members the group would be moving to another platform. I followed up with Laura and have her case study below.
Case study: Chain Reaction
The Chain Reaction network is the online space for those who attend or are interested in the Chain Reaction event, an annual conference in London focused on gathering changemakers and igniting more projects and impact. The group was originally set up on Ning, and with the change to a paid-service, Community Links (the organization behind Chain Reaction) helped the network transition to Grou.ps. They did so publicly with a blog post to the community as well as messages to the members of the network directly through the Ning platform.
Read the blog post about the transition here.
Interview
I asked Laura Hyde from Community Links to provide some additional information about the decision and process:
How did your community respond to the news that ning would no longer be free?
There were mixed responses. Generally I think most could understand why ning would begin charging, but for many community organisations such as ours it's often a struggle to find the ££'s to pay for extra services.
How did your team decide on a new platform?
We tested a few different platforms such as wordpress, webs, social go etc. We also consulted with people in the Chain Reaction network. Grou.ps seemed to be the best in terms of functionality suited to our needs.
What did you like best about Ning previously?
It was easy to update / add content to. Feedback from network members was that it was pretty easy to use as well.
Is that functionality available on grou.ps?
Yes, although grou.ps can be a little clunkier. For example, I find that changes that I make don't appear straight away which is a little frustrating. The added advantage of grou.ps is that there is a wiki and polls feature that isn't available on ning. You also don't have to pay to have a custom domain name as you do with ning.
What was the work load like to switch?
Very easy. In fact, I thought it might take a day or two to transfer all the files over from ning to grou.ps – in fact it only took about an hour which left me a little unprepared (I hadn't updated the CR blog in time!)
And the catch 22!
As I was posting this today, I visited the new gou.ps network for Chain Reaction and was greeted with a message that the group was temporarily unavailable. I messaged Laura on twitter and here's her response (read from the bottom up):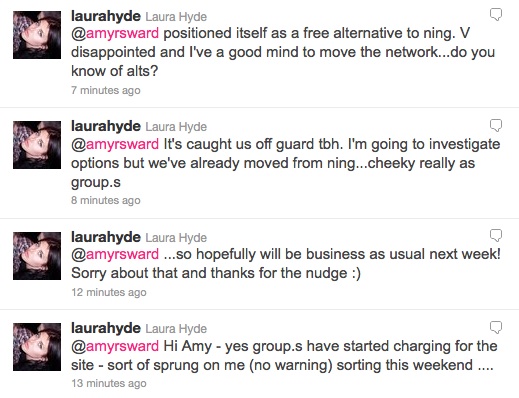 So the platform that touted itself as the free alternative to Ning is now no longer free either!
Phoenix or Fizzle
So, where does this leave us? Where are we now? Have most groups stayed on Ning and found a way to deal with the charges, or have most groups, like Laura's, moved on? And, perhaps more importantly, have we as a sector learned anything from this?
Examples like the Diaspora project saw overwhelmingly positive responses from the community at large, with people donating more than twice what was requested – many obviously hoping to be early adopters of what they hoped would be a revolution on the Web, but others hoping that by contributing they could have a bit of say in where it all goes.
Is Ning going to be a phoenix – rising out of the backlash and outcry about changing to a paid-service to become the platform of choice and provide users with access and ownership in it's future? Or will it fizzle into the growing ocean of tools that put all users at a loss from lack of control and transparency?
What do you think? What's your experience so far? Where are you looking to build?