I'm getting my bags packed to fly to Atlanta for the 2010 Nonprofit Technology Conference and discovered that I have 4 copies of Social by Social left – and I'm going to give them away!
About Social by Social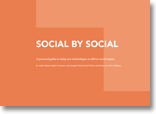 Co-Authored by Nigel Courtney (CASS Business School), Andy Gibson (Sociability), Clive Holtham (CASS Business School), David Wilcox (Social Reporter) and myself, Social by Social is a practical guide to using new technologies to create social impact. It makes accessible the tools you need to engage a community, offer services, scale up activities and sustain projects. Whoever you are, it shows you how to take technology and turn it into real world benefits.  Social by Social isn't a manual in the classic sense. This work is still pretty new and there isn't a simple model to follow. Instead, it asks you the questions which you will need to answer, shares some of the routes other people have tried, and offers signposts to help you find your way. And it invites you to join an ongoing conversation as we all find the way together.
The book is available to read online or download in PDF format for free, the hard copies are print-on-demand, all available at: SocialbySocial.com
How to Win
My favorite part of the NTC is getting to sit down, in person, with so many different people and learn about their work.  There are really amazing things emerging and growing in our sector and the more we talk about what we are doing with others interested in weaving the network, the more collaborations emerge and more impact can be made.  So, to win a book, you have to want to tell me all about the work you do – simple enough, right?  To win a book, simply leave a comment with:
Who you are
What you are working on
What you'd like to talk about at the NTC
To qualify you have to be attending the NTC so that I can give you the book and we can talk in person.  I only have 4 copies left so I will draw 4 names at random from all those who leave a comment at noon (Atlanta time) on Wednesday, April 7th.
Really looking forward to hearing from you!
—–
UPDATE: Winners selected!
I took all those that are attending the NTC that added comments below and assigned each name with a number, then used the random number generator at Random.org (in case you ever want to have an easy way to get random winners in something you are doing, too!) to select the four winners.  And they are, random order:
Margaux
Erin
Eric
Jennifer
I'll email all of you to be sure you know you've won and to arrange your book pick up!  Thanks everyone for commenting and getting conversations started. I know I'm looking forward to chatting with you and hope others use your comments to start conversations, too!
Social by Social Giveaway for 10NTC