Technology for Change
What's your favorite example of technology helping people create positive change in the world? I think there are too many to count, really.  For example, simply review the hundreds of ideas listed in NetSquared's Project Gallery and you'll quickly see that people from around the world are hard at work leveraging all kinds of technologies to create positive change for communities tackling many different issues.
One example that I've blogged about before is the annual project from EpicChange: Tweetsgiving.  During the US Thanksgiving holiday, Tweetsgiving asked people around the world to use Twitter to share something they were grateful for and include the link to the Tweetsgiving site (where people could donate to help build a library, classroom and more for the benefiting school in Tanzania).  This year, the Tweetsgiving campaign also asked people to gather in person, offline and have gratitude parties, where people could also donate in person to the project.  You can see the numbers (from tweets, to dollars, to videos and more) on the EpicChange blog here.
Enter the Contest
As part of HP's Create Change initiative, they want to initiate a dialogue on how technology and individuals create social change – and to do that, they have partnered with bloggers like me that think we know a few folks with ideas on that subject! (Looking at all of you readers, hint hint!)
HP is giving away a new computer and printer bundle to the winner selected in the contest – and we all have the added bonus of learning about ways others have leveraged technology and finding case studies that can help us in our work.  I'm really looking forward to hearing about the projects you find inspiring!
To participate in the contest, follow these easy steps:
1. Answer the same question that I discussed above:
What's your favorite example of technology helping people create positive change in the world?
2.  Provide your answer in the comments below (if you'd like to blog your answer on your own site, simply leave a comment here with a link to your site to be sure it's included)
3. You have until February 28th to submit a response to the question
On March 1, I will select a winner at random (all commenters who answer the question will be put into a hat and I'll draw one at random).  The winner will be announced here in an update at the bottom of the blog post that day.
So, get your submission in and be in the running for a new computer and printer!
(To find out more about HP's Create Change initiative, visit their website or Facebook page.)
UPDATE: Winner Announced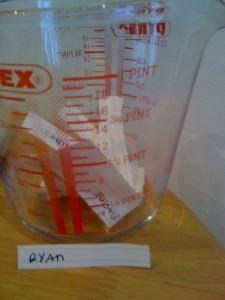 As promised, I took all those who commented on this post and chose one at random. Actually, I wrote everyone's name on a slip of paper, put them in a measuring cup, and my husband chose the winner at random. I even took a picture!
So, congratulations to Ryan Long!  You've won the contest for a new computer and printer bundle from HP, and will be connected to process your winnings.  Thanks again for sharing your favorite example of technology for social impact: LiveMocha.com, a website where people can learn and teach languages from around the world.
Thanks to all those who submitting comments with your favorite examples of technology for change! I've learned about more projects and seen some of my favorites mentioned. I hope you all find more organizations or tools to use, learn from or support, too!
Technology for Change Contest: Win a new computer from HP!